DarkThreads is proud to be a sponsor of: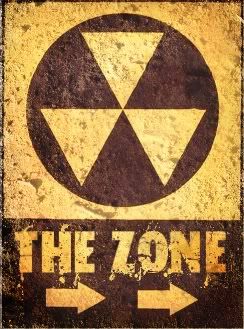 The Zone
January 10, 2009
Wayne's World of Paintball, Ocala, FL
9am - Midnight (?)
visit www.mindgame-productions.com
Download your Players Pack!
Full of event details, factions and life in the Zone!
http://mindgame-productions.com/playerpack/thezone.pdf
The Zone Forums now open!
http://mindgame-productions.com/forums/
Event Registration now open!
http://mindgame-productions.com/store/
The Zone is a unique airsoft experience drawn from the Russian novel "Roadside Picnic", the "STALKER" film, and video games based on the novel. Set in the contaminated wastelands of the Chernobyl Zone of Alienation, Ukrainian troops, paramilitary factions and lone stalkers fight to control or reveal the secrets of the Zone and seek fortune through scavenging scraps of classified technology and strange, unearthly artifacts. The Zone is a grim and deadly place, full of radioactive pockets, unexplained anomalies, mutated horrors and ruthless killers. But it is said that within, a man can find treasure beyond his wildest dreams…
Mindgame Productions Presents its first event of 2009 and we are kicking it into high gear. From book to movie to video game now we bring the action to life as you enter the ZONE! So break out the old MOPP suits, Geiger counters and yourself for our must intense and immersive event yet. Help us start 2009 with the biggest bang yet!