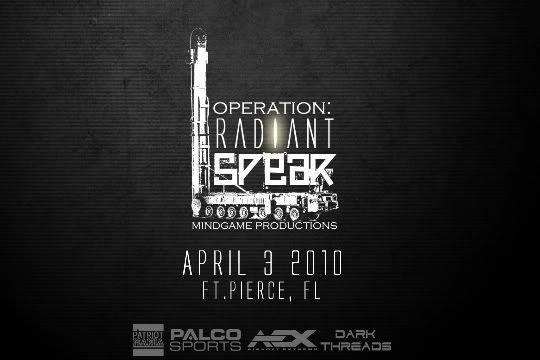 Operation: Radiant Spear
April 3rd, 2010
1450 Bell Ave, Ft. Pierce, FL
$40 Online Registration / $45 at the Door
Online registration closes Thursday, April1 at 1900hrs EST.
Save $5 and pay online at...

http://mindgame-productions.com/store/index.php

The Players Pack can be downloaded at...

http://mindgame-productions.com/nuke/files/RadiantSpearPlayersPack.pdf
Directions, rules, hotel information, map, waiver and more can be found in the players pack! Download your copy today!
Gates to open Saturday morning at 0700.
Registration and chrono online by 0730.Be checked-in,
chrono'd, loaded and ready to go by Safety Briefing.
UAL Competitions start at 0800!
Be sure to read the Players Pack and bring your own maps. Save time at check-in by printing and completing waivers from the Players Pack!
In May 2009, Iran successfully tests the improved Sajjil-2 missile, capable of reaching targets in Israel and Europe. Intelligence assets tasked to Irans nuclear program identify low-yield nuclear warheads in March of 2010. As the net closes in, a general in the Revolutionary Guard is tasked with smuggling the warheads through the Gulf and into the hands of radical groups in Asia.
The Intelligence Support Activity is tasked to locate and recover the warheads with the CENTRA SPIKE operations team before the weapons leave the country. Assets tracked the weapons to a large facility west of Iranshahr, in south-eastern Iran. The warheads are under heavy guard, waiting transport to the Gulf of Oman.
MISSION: CENTRA SPIKE, along with attached assets of 3/75th Rangers and Special Activities Division will attack OBJ Falcon on 03APR2010 to secure Iranian warheads and prevent them from leaving the country. All reasonable efforts will be made to capture specific high-value targets and intelligence related to the Asian connection in order to chase the trail to the intended recipients.
Intelligence Support Activity - CENTRA SPIKE
MultiCam
3/75th Rangers
ACU / Desert
CIA - Special Activities Division
Khaki / Coyote (Black Polos / T-shirts permitted)
Iranian Revolutionary Guard
Woodland / Woodland MARPAT
1st Special Forces Brigade
Tiger Stripe
10th Martyr's Brigade
Olive Drab / Black
VEVAK (Iranian Intelligence Ministry)
Civilian
Event Sponsored By


Airsoft Extreme
www.airsoftextreme.com


Dark Threads
www.darkthreads.com


Patriot Mania
www.patriotmania.com

Respawn Airsoft
www.respawnairsoft.com
Trailer/Promo online at...
http://www.youtube.com/watch?v=yYLJC_qpW0Q